Thinking about buying a car? Make sure to check what safety rating and safety features it has before you spend any money.
There's more to a great car than what it looks like or how much it costs. You also need to consider how safe it is. How well will it protect you in a crash? Does it have safety features to help you avoid a crash?
There are cars with high safety ratings available in most price brackets.
Car safety ratings
In New Zealand cars are rated for safety out of 5 stars. The safest cars have 5 stars.
To check if the car you're looking to buy has a good safety rating go to the Rightcar website and enter in the car's number plate.
If you don't have the car's number plate, search for the make, model and year.
You can also find out how good the car is for the environment on the Rightcar website.
Rightcar website
Number plate information
Safety features to look for in a car
Airbags
Airbags are designed to inflate quickly to protect people inside the car during a crash.
Most cars that are less than 20 years old come with front airbags, but safer cars also have side and curtain air bags which protect your head and upper body.
The easiest way to see what air bags your car has is to look for the word 'airbag' or the letters 'SRS' (Supplemental Restraint System).
Check for these in the:
middle of the steering wheel
dashboard in front of the front passenger seat
inside of the car's pillars (the supports that hold the window and roof in place)
side of the front seat backrests.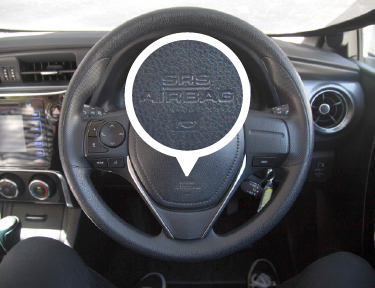 Crumple zones
Crumple zones are areas at the front and back of a vehicle that are designed to absorb the energy of a crash by crumpling. So the force of the crash is taken by the car, not you.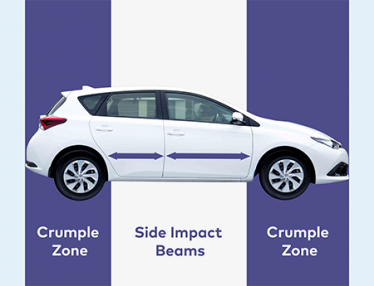 Side impact beams
These are reinforced beams built into the side of the car. They help protect you from a side-on crash.
Anti-lock braking system (ABS)
When a car brakes, the ABS system stops each wheel from locking up and skidding.
ABS helps you to keep steering even if you have to brake hard. This allows you to steer around something rather than crashing into it.
Traction control
This helps stop the car's wheels from slipping when the car is accelerating in slippery road conditions.
Electronic stability control (ESC)
ESC can help you keep in control if you have to swerve suddenly, or when you're driving on slippery roads.
When a vehicle starts to lose control, the ESC system automatically applies the brake to one or more wheels. This keeps the vehicle going where you want it to.
Automatic emergency braking (AEB)
Automatic emergency braking (sometimes known as autonomous emergency braking) slows a car if it detects a crash is about to happen. It will react if it identifies other traffic the car is about to hit by automatically applying the brakes if the driver doesn't react in time. AEB helps prevent head-on and rear-end crashes, and reduces the number and severity of injuries in a crash.
Lane support systems
Lane support systems warn you if your car is getting close to the edge of your lane, or if it crosses the lane marking, and will provide a visual or audible warning to you when appropriate. Some systems hold the vehicle's position within a lane, while others actively steer the vehicle back within the lane.
Other things to check before you buy
Personal Property Securities Register: Check to make sure there's no money owing on the vehicle from previous owners.
Motor vehicle search
Warrant of fitness (WoF): The WoF should be one month old or less when buying or selling a vehicle.
Road user charges (RUC): If the vehicle is affected by road user charges (fees), make sure it has a current RUC licence.
Vehicle licence (rego) label: Make sure it has a current vehicle licence label.
Make sure it's not stolen: Go to the New Zealand Police website to check the vehicle's not listed as stolen.
Stolen vehicle check